We can't all run our mother's multi-million dollar fashion line but we can become successful in our field of work with a few tips from the Queen B. Possible spoiler alerts ahead!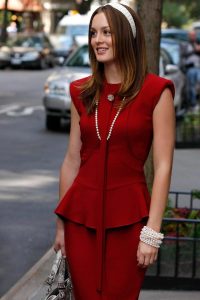 Dress well: Queen B's royalty does not depend on her relationship status with Prince Louis. She has always been the queen of fashion. Blair wears clothes that she loves and nothing less. This doesn't mean one must dress like Blair to be as successful as her. That being said, you don't have to wear designer clothes to complete this step. Besides, wearing Blair's signature headband won't make you any more productive if you have a headache! Simply wear clothes you feel confident in. When you feel confident you may be more inclined to take career enhancing risks.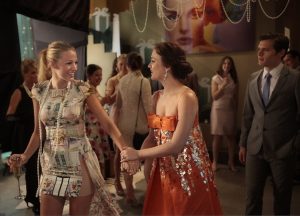 Party scene from Gossip Girl
Network: Queen B's royalty extends from the queen of fashion to the queen of hosting, attending and even crashing parties. Networking through social gatherings is a major component in Blair's productivity. Social networking via LinkedIn or Facebook is a great start but it is not nearly as effective as attending and hosting soirees. Gossip Girl viewers have almost never seen Blair Waldorf applying for a job or an internship online. She uses her many connections to get what she wants. Similarly, you may find that many job openings are filled through networking rather than online applications. Making yourself known in your profession will give you access to opportunities otherwise unknown.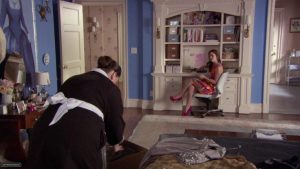 Blair working at her in-home office area
Use your "down time" wisely: Blair Waldorf never really has "down time". She is too busy running her mother's company, arguing with her best friend/ frenemy, Serena, and untangling her twisted love life with Chuck Bass. Somehow, in the midst of her drama, Blair manages to land the best internship, maintain a 4.0 GPA for multiple seasons and run a multi-million dollar company. This level of productivity and success doesn't just come from having Dorota and minions at your service. In order to become as efficient in time management as Blair, one must work smarter not harder. Make your daily tasks easier to complete. For example, if you're in school and you have several essays to type or you need a last minute cramming session, pick the most rewarding study environment. Rather than studying on the school benches, invest in an ergonomic chair like the Herman Miller Aeron from Beverly Hills Chairs to work in at home. You might even find yourself doing work just because you want to sit in the chair. Working effectively will grant you more time for other career endeavors.
The Ultimate hack to becoming as driven and successful as Blair Waldorf in your field is confidence. While wearing clothes that you feel confident in enhances your confidence for the day, being confident in yourself will take you much further. The key to B's success is her belief in herself. She rarely gives up on herself and if she does she snaps out of self-doubt quickly. In order to channel Blair Waldorf vibes you must be willing to bet on yourself.