August 7th, 1987, Sidney Crosby was born to Troy and Tina Crosby in the hockey-crazed city of Halifax, Nova Scotia. This would mark the day that one of the most influential, and dominant hockey players of our current generation would be put on earth. Sidney Crosby has been labeled as "the next one" (in terms of succeeding the "great one," Wayne Gretzky), "Sid the Kid," "Captain Canada," and several other names that only imply his greatness. Since Crosby's days of playing triple-A in Canada, to the humbling days of Shattuck St.Mary's, to the QMJHL, and then to the Pittsburgh Penguins, he has solidified his legacy as a once-in-a-generation player.
Crosby has been showered with virtually every single award at the professional and amateur level. This includes three Stanley Cups, two Olympic Gold Medals, one World Cup of Hockey Championship, one World Cup of Hockey MVP, two Art Ross trophies, two Maurice Rocket Richard Trophies, three Ted Lindsay awards, two MVP's, two Mark Messier Leadership awards, and two Conn Smyth awards. This list also excludes?his seven Pittsburgh Penguin MVP awards, and all his awards before the professional level.
Despite all the negative press Crosby receives, and the enormous amount of haters he has, you can't say he isn't one of the greatest to ever lace up the skates. His life in the National Hockey League has only been a tad over a decade long, it features a series of ups and downs, but he has always been able to perform at an elite level. Here's a look at the path Sidney Crosby has taken to becoming the dominant force in the National Hockey League he is today.
Hockey in His Youth
Age seven, that's all it took for him to grab the local news outlets' attention. He was an instant sensation. In a hockey-obsessed country, which produces NHL superstars like no other, Crosby was much different. He was a Canadian prodigy. As Crosby aged, he eventually started to garner more attention for his absurd play, especially at the age of thirteen when he was denied entry to playing in the minor Midget level of hockey.
The Midget level is the age group that has kids who are fifteen, sixteen, and seventeen. Most of the time at this youth level you will see a significant rise in talent in comparison to the Bantam level (ages thirteen to fourteen), which is the age group below Midget. A protest by Sidney and his parents ensued, but they lost. Although the next year, at the age of fourteen, he would be granted access to the Midget level. He would show no sign of weakness.
Crosby straight up embarrassed his elderly opponents in the process of scoring two-hundred-and-seventeen points (yes, actually) for the Dartmouth Subways. This angered the Canadian hockey community, mostly the kids who weren't as good as him and their jealous parents. Players started intentionally going out of their way to hurt Crosby, and parents in the stands would verbally abuse Troy and Tina. It got so bad that two years later he moved to America to play hockey.
Life in America
Shattuck-Saint Mary's Boarding School is where Crosby elected to play. This is a prestigious institution located in Fairbult, Minnesota which is known for the amount of National Hockey League stars bred there over the last few decades. Crosby went on to dominate every American prep school and elite Midget team he faced while playing for the Sabers. He scored one-hundred-and-sixty-two points in a minuscule fifty-seven games. He also led the team to a national championship during his junior year.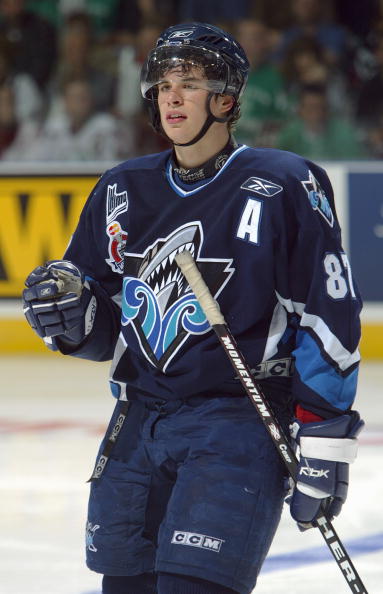 After only teasing the Sabers by giving them only ONE national championship (not like they didn't go on to win quite a bit more) he decided to hit the road for Canada again. Crosby, no surprise, was drafted first overall in the 2003 midget-QMJHL draft. He made an impression instantaneously by scoring four goals and assisting on another four in his first exhibition game.
This rookie year in the QMJHL is what frightened and excited NHL scouts. Teams who had no shot at being the first pick in the draft two years down the road (when Crosby becomes eligible) began to cringe, while those who had a shot were more attentive to his play than they were with any other prospect. Crosby scored a mind blowing one-hundred-and-thirty-five points as a sixteen year old. Only to best it the year after with one-hundred-and-sixty-eight points. During these two years he won QMJHL MVP and Offensive Player of the Year both times. After his 2003-2004 stint with the Rimouski Oceanic of the QMJHL, and only one Memorial Cup championship he knew it was time to move on to bigger and better things. The National Hockey League.
The Show
The 2005 National Hockey League draft is what many hockey historians now say was the turning point of the Pittsburgh Penguins since the Lemieux era (when he was the league's star). The draft for months was being referred to as, "The Sidney Crosby sweepstakes." With no surprise, Crosby went number one to Pittsburgh. Shortly after he was put into a leadership role. As a rookie he was named assistant captain. During this year he went on to make a name for himself by scoring one-hundred-and-two points, which was surprisingly only the league's sixth best and second best out of the rookie class. Crosby would come a close second to the year's Calder Trophy winner Alexander Ovechkin. This marked the start of fierce division rivalry that would remain potent for the next decade and more. Despite Crosby's one-hundred-and-two points the Penguins would still remain in last place in the Eastern Conference.
In Crosby's sophomore year campaign, he solidified himself as more than just a one hit wonder. He became the second ever teenager (nineteen years old) to lead the league in scoring ("The great one" was the only other). Crosby racked up one-hundred-and-twenty points which secured him both the Art Ross trophy and the Hart Trophy. The Penguins began to make massive strides because of Crosby's efforts combined with the additions of Evgeni Malkin and Jordan Staal. The two rookies were numbers one and two in the Calder Trophy race that year.
Crosby's Earns the Captaincy
Nineteen years, nine months, and twelve days marked the youngest named captain in National Hockey League History. This was a turning point in the NHL golden boy's career. He shifted his style of play towards becoming more of a two-way player. Crosby made this transition because he wanted to embrace his role as a captain, and really buy into the Penguins system. He also took his role as captain seriously off the ice as well, which resulted in him winning the 2009 Mark Messier leadership Trophy (dominant on ice performance combined with off-ice contributions to the community). This allowed other players such as Evgeni Malkin and Chris Kunitz to begin to thrive and develop into superstars alongside "Sid the Kid."
However, his numbers did not decrease significantly. He still was totaling season's with point totals over one-hundred, which was dominant and league-leading. For example, in 2009 he tied Tampa Bay lightning sniper Steven Stamkos for the Rocket Richard Trophy (most goals in regular season award) with fifty-one goals and only lost to Vancouver Canucks star Henrik Sedin by three points for the Art Ross Trophy (most points in regular season) .
Also in 2009, the Penguins entered the season as defending Eastern Conference champions. They had fell just short to the Detroit Red Wings in the 2008 Stanley Cup final and had all the talent they needed to hoist it the following year. The Penguins and Crosby wound up facing Detroit once again. This time they prevailed in dramatic fashion, winning 2-1 in game 7. Crosby became the youngest captain to hoist the Stanley Cup at twenty one years, ten months, and five days.
Concussions and Negative Press
Concussion Timeline:
Jan 1. 2011 - Gets blindsided by Washington Capitals David Steckel in Winter Classic.
Jan 5. 2011 - Hit by Lightning's Victor Headmen into boards awkwardly
Jan 7. 2011 - Penguins Announce Crosby has concussion (First)
Jan 8. 2011 - Crosby speaks to Media about how he will be out indefinitely. Also is spotted sitting in the all famous Herman Miller Aeron chair that's sold at Beverly Hills Chairs. These chairs began being used by the NHL at various press conferences because of their extreme comfortability. Many NHL players love having extra back and neck support, and these chairs just do that because of all their adjustable features.
Oct 13. 2012 - Still hasn't played since January 5th, and is finally cleared for contact.
Nov 20. 2012 - First game back, has two assists
Dec 12. 2012 - Out indefinitely. Symptoms reappear.
Oct 10. 2016 - Diagnosed with concussion six games into the season (Second)
May 1. 2017 - Diagnosed with concussion in Game 3 of Stanley Cup Playoffs (Third)
Negative Press:
Since his year long concussion injury Crosby has taken heat for two reasons. The first, is the fact that he is "soft," and whines about every little thing because he is seen as the pride and joy of the NHL. People have claimed that the NHL's commissioner Gary Bettman, has under the table rules about checking Crosby. So every time Crosby has an injury, big or small, he takes lot's of heat. Secondly, the press constantly questions his ability to play with so many concussions. Crosby has been diagnosed with three concussion during his professional career, but that excludes everything prior that he may have attained as a youth or in junior hockey. Lot's of press always ask, "why are you still playing?" Sooner or later the injuries may catch up to him, and will spiral his career down a path which nobody hopes to see.
Crosby Goes Back to Back (2016 & 2017)
The Pittsburgh Penguins are the first team to win back to back Stanley Cup championships in nineteen years. Led by captain Sidney Crosby, the team has solidified their legacy as one of the greatest teams of the modern era. Crosby has also won back to back Conn Smyth trophies (most outstanding player in the playoffs) for his exceptional play. This past Stanley Cup playoffs, he tallied twenty-eight points to propel them to a 4-2 series victory over the Nashville Predators.
Despite Crosby's array of concussions and injuries there is no doubting who he is when he's at full strength. The awards and championships speak for themselves. Crosby is the undisputed face of the National Hockey League (Connor McDavid a close second) who has exemplified what it means to be great in professional sports.