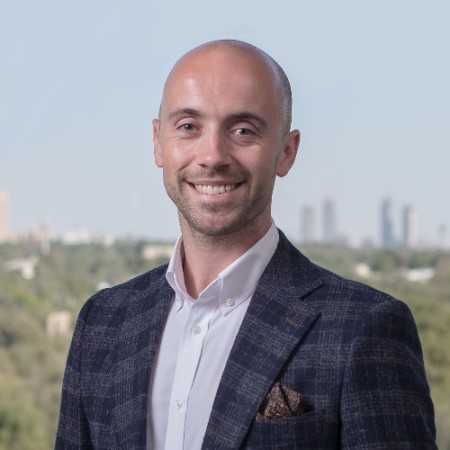 Gary Blowers is the founder and CEO of LVL Wellbeing, a leading corporate wellbeing platform. Gary is an experienced entrepreneur and an expert in wellbeing in the workplace.
BHC: How would you describe what you do?
Gary : LVL is a wellbeing platform designed to help busy working people prioritize their wellbeing. I come from a corporate background and started my career on Wall Street, then switched into digital marketing and branding. Despite the change of industry, there was one unifying factor: I worked too hard and got burnt out. I realized that this was a common problem and a solvable one, and that's how the idea for LVL came about. With live and on-demand content available, there is something for everyone, regardless of where you're at on your wellbeing journey. One of the biggest things we've been focusing on throughout the pandemic is an understanding of burnout and how companies and employees can better address it. And the best part is that it's designed for teams, so you can hold yourself accountable to your teammates on bringing the best version of yourself to work!
BHC: What is most challenging about what you do?
Gary : Our platform is designed to engage a wide range of people, so continuing to maintain relevance and engagement is a challenge - but one that we love! When we first launched the platform, we had a lot of fitness content and that was the dominant wellbeing stream. Before COVID-19, the wellness trend was mainly physical, so we catered to that need and were thriving, but with lockdowns and health concerns, we needed to pivot to remain relevant and address the needs of employees globally. Fast forward to today and we have content like 'managing the signs of burnout', 'the psychology of nutrition' and 'pre-meeting meditation'. The change from physical to mental and emotional wellness has certainly been a challenge, but it has been a welcome one and has allowed us to adapt and innovate in line with workforce trends. The range of content has grown in line with the needs of our member base and we're excited to continue to be challenged by our members to provide the content that they really need to support their wellbeing journeys.
BHC: What challenges or issues are emerging with the surge in remote work?
Gary : We're seeing a lot of people suffering from early or late stage burnout and this is due (in large part) to the seismic shift in working patterns/behaviors. Whilst working from home has shown us many upsides, a few of the downsides include a significant increase in screen time ("Zoom fatigue"), employees working even longer hours (because they have "more time" due to not commuting, etc.) and because they're not physically present in an office, they're digitally 'always on' and thus responding to emails and working on projects late into the night. None of these factors contribute to high performance nor wellbeing, and organizations really need to address this before they lose their (best) employees to the 'Great Resignation'.
BHC: With the explosion in work from home, do you foresee any changes to the future of office design?
Gary : The workplace of the future is a very exciting topic! Organizations now have the opportunity to totally re-imagine how to best engage employees and enable collaboration. The future office design needs to include "collision" areas where impromptu meetings can take place, more co-working areas for planned collaboration and, critically, more amenities - like better wellbeing, food & beverage offerings - that give employees a reason to visit and spend time in the office.
BHC: What should be done with collaborative and impromptu gathering spaces in light of the pandemic?
Gary : We're seeing a huge demand for collaboration and event space at our LVL Downtown studio in Dubai - team members want to be able to spend time with each other (in person!) but want to be able to do so in an environment that fosters collaboration and has unique elements to the space (that they didn't have pre-COVID). Combining workshops with wellbeing activities/breaks has already proven to be both highly engaging but also to have a tremendous impact on productivity.
BHC: When you think about the phrase, The Workplace of the Future, what ideas immediately come to mind?
Gary : A space where performance/productivity is the focus, as opposed to presenteeism. The Workplace of the Future is somewhere that employees do not spend their full working week at, but they do spend the days/hours in the space when they want to maximize their collaborative output. It's a place where employees arrive with/for a purpose and leave with results. Before COVID-19, the general consensus was that the workplace was a static physical space where employees went to log their hours and pass the time to get a paycheck. But I think that employers around the world used the experience of the past two years to reevaluate their values and the environment they are creating for employees, and I believe that we're in for some positive changes going forward. Whether companies are looking to go fully remote, adopt a hybrid model, or even intend to return fully in person, there's been a fundamental shift in the mindset around workplaces and collaboration. This has given us a once in a lifetime opportunity to redefine how teams work together to achieve high performance and it's a topic that really excites me!
BHC: What are you and your business doing differently in response to the COVID-19 pandemic?
Gary : First and foremost, we practice what we preach - we're a wellbeing platform for teams and we use the platform to support each other in our collective wellbeing journeys. Not only do we do live sessions together & test new on-demand activities as the content is produced, but we also have a #PrioritizeWell Slack channel where the team do daily check-ins as to how well they're doing (or share their struggles, so that the team can support!). And because our team took barely any vacation in 2020/21, we have created an unlimited vacation policy, so our team members can take however much vacation they want, whenever they want (subject to being able to deliver on their responsibilities!). We've also introduced "Me Days" - so if you wake up on any given morning and are really not feeling up to it, you can take the day to rest, reset & come back stronger the next day. Finally, we recently announced that we're moving to a 4.5 day work week as of 1st January 2022, with a view to moving to a 4-day work week by Q2 2022. We believe that a high performing, highly productive team that works 4 days a week is better than a team of people who work too many hours over 5 days, sacrificing their own wellbeing or personal life for the sake of doing more work.
BHC: Can the design of an office contribute to workplace wellness?
Gary : It absolutely can! There's a reason that the image of an employee hunched over their desk in a cubicle is such a depressing portrait of corporate life - there's nothing healthy or inspiring about the physical constraints so many employees face! We approach wellness through a holistic lens, so the design of an office is a great place to start fostering all-around wellness, whether through physical health elements, like offering standing desks, mental health elements, such as bringing in light and natural aspects to brighten the space, or social-emotional elements, which could be addressed by giving employees the tools and resources to nurture their relationships inside and outside the workplace. At LVL, we're working with our clients to re-design their entire approach to workplace wellness - starting with employees that work from home & going all the way to those that will return to the workplace of the future. In Dubai, we recently launched a digital wellbeing studio for Standard Chartered, where their employees can leverage the vast library of on-demand content or live sessions available on the LVL platform, in a dedicated, purpose built wellbeing studio.