If you're a Game of Thrones fanatic, you probably want your own iron throne to sit on. While a real throne of swords is unrealistic for this world, there are several chairs that will make you feel like a king.
Game of Chairs
1. Lush Velvet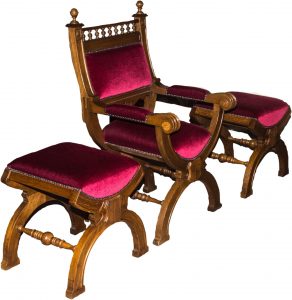 What's better for royalty than a velvet chair? This plush, fancy chair will have you feeling like royalty wherever you are. Your kids will run up to you and ask to be knighted. This chair might be a little uncomfortable, but that doesn't matter when you look regal AF.
2. A Colorful, Scrolled Luxury Chair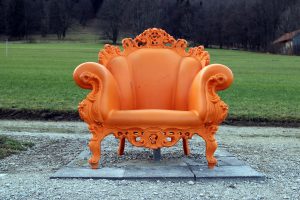 This chair screams important. Whoever sits on it automatically feels royal. It might not be comfy, but you will look good sitting in it. This is the perfect outdoor chair as its painted exterior will prevent wear and tear from the elements. Do you have an upcoming photo shoot? Get in this chair immediately! The aesthetic alone will get you Instagram likes equal to Prince William's.
3. A Herman Miller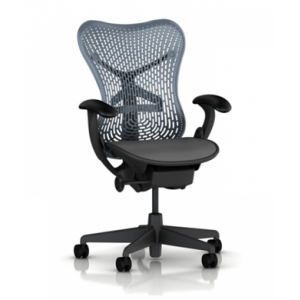 Comfort and looks! What better way to feel like a king than by getting the best ergonomic support for your back. The Herman Miller Mirra or the Herman Miller Aeron both give stellar lumbar support and make you feel great for making those important decisions. You can even get them without breaking the bank from Beverly Hills Chairs. The ergonomic chair helps you focus while making big or small decisions. Regardless of what you do in the chair, you will feel powerful sitting in it.
4. A Leather Lounge Chair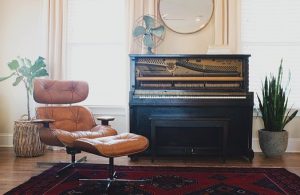 Nothing feels more regal than relaxing in a leather chair. Leather screams luxury, but having a footstool allows it to be more comfortable. Whether you take a nap or read a book, this chair promotes luxury living equal to that of a king. Add a real fur blanket to make you feel even more luxurious.
5. A Leather Armchair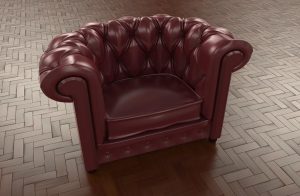 Speaking of leather and luxury, this armchair will make you feel strong and powerful after a long day. This chair is perfect in a set for you and your friends to sit in and smoke a cigar. The upholstery looks elegant and sophisticated. Because of this elegance, whoever sits in this chair will also feel sophisticated.