Reading is slowly starting to make a comeback in today's society. About ten to fifteen years ago, and sometimes even now, it was considered "uncool" to love reading - books were considered boring, hard to read, and just overall not a fun hobby. Luckily, reading has slowly made it's way back into society and many young adults are proud to pick up a book and read it from cover to cover. For those of you that consider yourselves bookworms, this guide will tell you what type of reader you are based on where you like to read, and, based on that, give you some suggestions on what books you should read and some insight on how to elevate your favorite reading spot.
In Your Bed
If you find yourself enjoying being cozied up under your favorite blanket, surrounded by pillows, reading your latest find, then you're most likely someone who enjoys reading books that bring you comfort and make you feel at home and at ease. A few books we would recommend are:
- "Year of Yes" - Shonda Rhimes (Yes, THAT Shonda, the Shonda that tears your heart apart every Thursday with Grey's Anatomy and Scandal)
- "Small Great Things" - Jodie Picoult
- "The Happiness Project" - Gretchen Rubin
While some of these books might look like tense reads at first, we promise that by the end of each novel, you will find so much joy and comfort, and feel completely at home in your bed curled up with your new favorite book. Some tips on enhancing your favorite space would be as follows:
- An AMAZING book light: Sometimes the main light for your room is WAY too bright, or not bright enough, but a great book light helps to ease up on the electric bill, helps you to see the words on the pages better, and gets rid of the strain on your eyes from the brightness of your overhead light (your eyes will thank you for this).
- The fuzziest blanket you can find: Target actually sells these super warm, super fuzzy blankets at a great price. You don't get overheated, and you're definitely not cold while you're cuddled up underneath it reading your book.
- Vibrating pillow: It sounds weird, but it will probably be the greatest investment you ever make. These little pillows are great to lean back on and give you a little extra pizzaz as you read your book. Along with that, it also adds some extra comfort and relaxation to your already comfy and relaxed state as you read.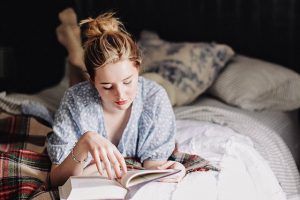 Outside
If you find yourself enjoying being outside, whether it's in a park, or in your front yard, you're most likely someone who loves reading about adventure. You love to take yourself to a place you've never been, whether it's fictitious or not, and put yourself in the protagonist's position to try to figure out the ending before they do. A few books we would recommend are:
"WILD" - Cheryl Strayed (The movie wasn't half bad either)
"The Perfect Storm" - Sebastian Junger (The movie is good, but the book is WAY better)
"The Jungle Book" - Rudyard Kipling (Again, book is WAY, WAY better)
These books will literally put you in the adventure that each character takes on. These books are on the intense side (maybe not so much "The Jungle Book," but definitely the other two) but will definitely give you that sense of adventure that you crave. To make your outdoor adventure a little bit better we suggest:
- A chair mat: This might sound slightly absurd, but think about it. You're outside, maybe laying on the grass, there's bugs, itchy grass, and the grass is staining your clothes, a blanket could suffice, but then it gets all tangled up in your legs and it's hard to maneuver around. A chair mat makes everything so much better and still allows you to have your outdoor adventure; it will literally become your favorite outdoor reading accessory. Beverly Hills Chairs has a ton of options.
- An arm pillow: This will become your second favorite reading accessory. Nothing feels better than being able to spread out and lean up against something soft and cushiony while you're adventuring with Mowgli or Cheryl. You have your chair mat laid out on your favorite grassy knoll, then you lean up onto your pillow and then you're finally able to block out the rest of the world and join the adventure of your lifetime.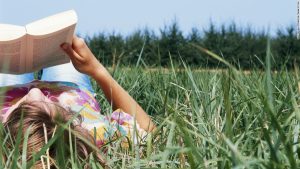 In A Library
If you like to read in a library, then you've definitely got a thing for the smell of those old pages and crave a good, classic read. It's impossible to narrow done all of the classics, so we are providing you with the best classics that have been challenged by parents/school boards and/or banned from libraries and/or schools in the past (we included two from the 90s and two from the 00s to show the "risqu?" that is still plaguing certain communities):
"I Know Why The Caged Bird Sings" - Maya Angelou
"The Outsiders" - S.E. Hinton
"The Color Purple" - Alice Walker
"To Kill A Mockingbird" - Harper Lee
It's difficult to enhance the aesthetic and enjoyment that reading brings at a library, however there are still some things that you can do to make things even better:
- Your favorite sweater: Libraries can sometimes give off an extra chill, but along with that, these books will also give you the chills and tear at your heart strings. You'll definitely want something comforting like your favorite sweater to bundle up in and read these absolutely incredible novels.
- A pillow: Sometimes libraries are only equipped by those sturdy, wooden chairs and that can take a toll on your back when you're sitting down and reading a book you just can't put down for hours. A great suggestion would be to bring a small pillow to lean your lower back up against when you're leaning back in your chair, or a place for you to rest your chin when you need to get your nose deep in the book.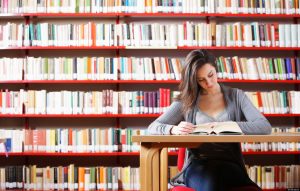 On A Couch
If you find yourself curling up on the couch, or laying up and taking full coverage on the couch, you're definitely someone who is reading a good love story. Whether it's some Shakespearian sonnets or plays, or a classic romance, you're sprawled out enjoying a good love story unfold right in front of you. Some of the best classic romances we would suggest are:
"Pride and Prejudice" - Jane Austen (If you want a more intense version, "Pride and Prejudice and Zombies" by Seth Grahame-Smith isn't bad at all)
"A Winter's Tale" - William Shakespeare
"Anna Karenina" - Leo Tolstoy
To enhance your living room/office/wherever your favorite couch is we suggest:
- A swivel chair: Hear us out. When you're laying on your couch, watching the love fall into place and that moment you've been dying to happen finally happens, you're going to want to jump up and into your favorite swivel chair and spin around holding the book close to your chest squealing. Again, Beverly Hills Chairs has some amazing deals that will enhance your romantic rendezvous.
- Your favorite tea in your favorite mug: For the titles we've suggested, we suggest an Earl Grey Tea in your favorite mug. Have it sitting right next to you, so that when you're needing that extra warmth in your heart you can take a sip of your tea and fill yourself up with warmth. An added bonus would be if you were wrapped up in that Target blanket we mentioned earlier, that would also be a great addition to reading your romance on the couch.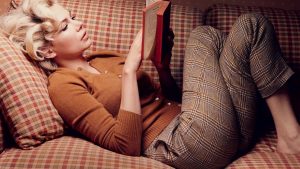 We hope this guide has helped you bookworms in to finding new reads, enhances your favorite reading spots, and allows you to continue being the amazing reader you are. Happy reading!