While a sit to stand desk or workstation is a healthier option for the workplace in order to increase overall health and life expectancy, you can be knowledgeable of other health aspects in order to maximize your benefit from them. Purchasing a sit to stand workstation is only one integral piece of wellness in the workplace.
1. Knowledge Is Power
Being knowledgeable of the various forms or types of sit to stand workstations will help you to make the proper choice in purchasing one. Some options are electric desks, which are easier to adjust than other types, but are generally more expensive, pneumatic types and ones with crank mechanisms for adjustment. Pneumatic desks can be used by pressing a lever which raises and lowers the desk and doesn't need to be plugged into an outlet. Electric desks, which do need to be plugged in, can move more weight than the others and is easily moved by pressing a button. These desks are good if you are constantly adjusting your desk throughout the day. Pneumatic and electric desks are both easier to use than Crank desks; but while purchasing your sit to stand or standing desk is a good first step, you still need to know other things in order to fully benefit from them. If you go to Beverly Hills Chairs, they have a vast amount of options for not only sit to stand desks, but ergonomic chairs as well.
2. Keep A Good Posture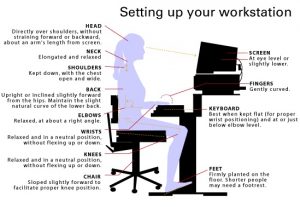 Maintaining good posture is something that many people struggle with nowadays, and even with a sit to stand desk you can still have bad posture. Doctor of physical therapy Kelly Starrett states that you can have a healthy posture by squeezing your buttocks muscles together without tucking your rear end in too far when standing. You should also keep the screen of your computer at eye level and an arm's length away. Keep your elbows at ninety degrees and close to your body, and stand up straight. (Buffer Open) (CBS)
3. Anti-Fatigue mats and other accompanying products
Another way you can benefit from your new workstation is to purchase an anti-fatigue mat. If you stand on materials at work such as wood, tile, or concrete floors, you are more likely to suffer from health problems such as varicose veins, limb swelling and neck pain. Varicose veins occur"when your veins become enlarged, dilated and overfilled with blood." This painful condition, which half of Americans over 50 develop, appears on the legs. Standing on hard surfaces puts strains on your feet and calves. Anti-fatigue mats are mats that reduce fatigue from standing on hard surfaces for too long. They can be made of rubber, wood, vinyl and other materials. Anti-fatigue mats keep you a little off balance, which makes you contract the muscles in your shins and calves. The contraction of muscles pushes your blood back up to your core to be re-oxygenated. Choosing proper footwear is also beneficial, because it reduces fatigue and health risks of standing too long. The flooring is also an important contributor to fatigue and strain. While using a sit-stand desk can be beneficial, hard and uncomfortable floorings, such as concrete, are not a good choice for the working body.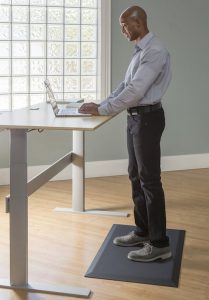 4. Practice Moderation
One very important thing you need to do in order to benefit from from your sit to stand desk is making sure you vary between sitting, standing, and walking. Some people may be wasting their time buying a sit to stand desk if they end up sitting most of the time. (Authority Nutrition) You should never stand for more than half of your workday. It is important to take breaks in between work periods and to go for a short walk if possible. One should switch from sitting to standing every half hour. When standing you should also move around, as one may stand while staying completely still, which is better than sitting but still not that great. You should also avoid hunching over and leaning whether you are standing or sitting during any time of the day, which can lead to strain injuries.
5. Don't Do Too Much
While using a sit to stand, standing, or stand to sit desk it is important that you don't over exert yourself in a short period of time by doing too much standing or moving.