Haworth - Zody Refurbished Office Chair, Fully Adjustable - Gray (Warehouse Pick Up)
In Stock
Only 5 left in stock -- order soon!
Lifetime Warranty *

Money Back Guarantee

Free Shipping
* Herman Miller warranty does not apply to the purchase of a Herman Miller product from BeverlyHillsChairs.com
*PLEASE EMAIL SUPPORT@BEVERLYHILLSCHAIRS.COM TO SET AN APPOINTMENT TO CHECK THE CHAIR AND PICK UP*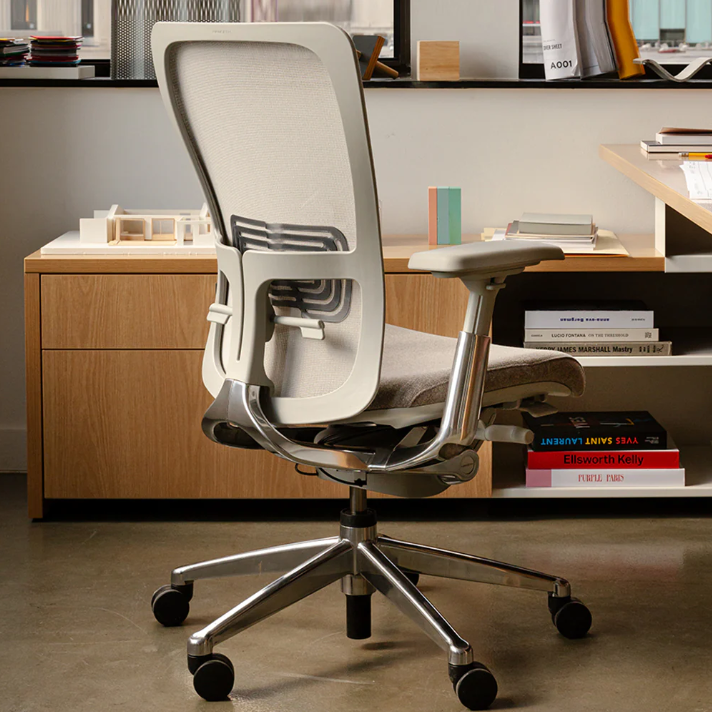 Experience the perfect blend of style and comfort with the Haworth Zody Refurbished Office Chair. Elevate your workspace with this chic and exceptionally comfortable desk chair. Its mesh back and contoured, cushioned seat offers the ideal support for all-day productivity. The Zody chair boasts a multitude of adjustable features, from the arms to seat depth and lumbar support, ensuring a personalized and enjoyable seating experience. Embrace the luxury of sitting in this high-style chair today.
Unlock a world of comfort and customization with these premium features:
Tailored to You: Adjustable Arm Height
Find your perfect armrest position for unrivaled support.
Smooth Mobility: Hard Casters
Glide effortlessly across your workspace with ease.
Tailored Support: Lumbar Height Adjustment
Customize your lumbar support for ideal posture and comfort.
Personalized Fit: Adjustable Seat Depth
Achieve the optimal seat depth to suit your unique preferences.
Tilt with Ease: Tilt Tension
Fine-tune your recline tension for ultimate relaxation.


Elevate your workspace experience with these top-notch features, designed to enhance your comfort and productivity.
Let me tell you, I am no stranger to the world of office chairs. Over the years, I've tried countless chairs, hoping to find the perfect blend of comfort, style, and functionality. It's safe to say that my quest ended when I purchased the refurbished Zody office chair.

This refurbished chair is nothing short of a revelation. From the moment it arrived, it was clear that it had been meticulously restored to its former glory. The chair's aesthetics were impeccable, and if I didn't know any better, I'd have thought it was brand new. It's not just a piece of office furniture; it's a statement piece that complements my workspace beautifully.

But looks aren't everything, and what truly sets the Zody chair apart is the level of comfort it offers. The adjustable lumbar support is a lifesaver for someone like me, who spends long hours at the desk. The mesh back is breathable and keeps me cool, even during those intense work sessions. The cushioned seat is just the right balance of plush and supportive, allowing me to focus on my tasks without any discomfort.

Overall, I'm thankful I found Beverly Hills Chairs for this wonderful chair!
I am thoroughly impressed with my Zody chair. It's a fantastic addition to my home office. Not only does it look brand new, but the ergonomic design and adjustable features make it a dream to work in. The lumbar support is a real back-saver, and I can't believe I got all this quality at such a great price.
I took a chance on the refurbished Zody chair, and I'm delighted with my purchase. It's comfortable, stylish, and incredibly affordable for the quality. The adjustable lumbar support is a lifesaver during long work hours. I'd highly recommend this chair to anyone looking for a great deal.
The refurbished Zody chair is a true find. impeccable condition and the comfort it offers is second to none. The adjustability options are fantastic, and I appreciate the eco-friendly aspect. It's a five-star purchase all the way.