Steelcase - Amia Refurbished Office Chair, Fully Adjustable - Black
In Stock
Only 16 left in stock -- order soon!
Lifetime Warranty *

Money Back Guarantee

Free Shipping
* Herman Miller warranty does not apply to the purchase of a Herman Miller product from BeverlyHillsChairs.com
Steelcase - Amia Refurbished Office Chair, Fully Adjustable - Black
Introducing the Amia chair, a masterpiece born from the partnership of Steelcase and renowned industrial designer, Thomas Overthun from IDEO.
Incorporating groundbreaking features such as the LiveLumbar™ mechanism, Amia seamlessly integrates these innovations within its form, prioritizing subtlety over external flaunting. In a world inundated with information, the concept of technology quietly serving its purpose, rather than vying for attention holds great appeal. Coupled with an unwavering dedication to precision and premium materials, we've brought to life Amia's serene and refined design, precisely as envisioned by Thomas Overthun.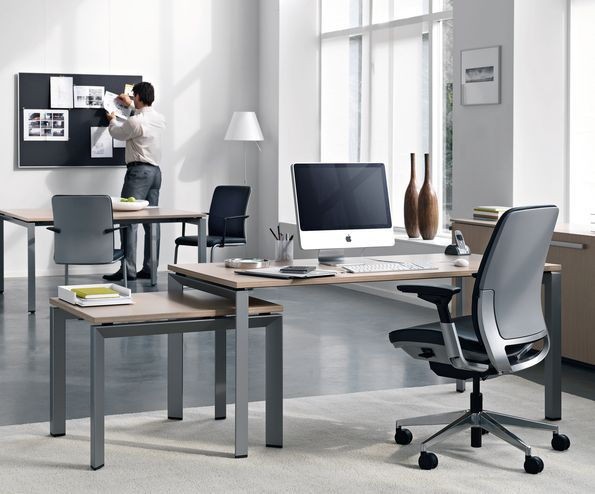 Experience Unmatched Comfort and Versatility with Our Chair's Outstanding Features:
Tailor Your Armrests with 4-Way Adjustable Arms
Achieve the Perfect Posture with Adjustable Lumbar Support
Customize Your Seating Depth for Maximum Comfort
Elevate Your Seating Experience with Adjustable Seat Height
Find Your Ideal Reclining Balance with Adjustable Tilt Tension
Discover the Innovative LiveLumbar System for Unsurpassed Back Support
Elevate your comfort and productivity with a chair that caters to your every need.
I received the refurbished Steelcase Amia chair from Beverly Hills Chairs, and I couldn't be happier with my purchase. The chair itself is a testament to quality and comfort. It looks and feels brand new, a testament to their meticulous refurbishing process. I'm highly impressed by the chair's performance.

However, what truly sets this experience apart is Beverly Hills Chairs' exceptional customer service. From the moment I inquired about the chair to the swift and secure delivery, their team displayed an unwavering commitment to customer satisfaction. Any questions or concerns I had were met with prompt, friendly, and informative responses. They made the entire buying process a breeze, and their dedication to ensuring I was satisfied with my purchase was evident. Beverly Hills Chairs has set a high standard not just for its products but for its service as well. I highly recommend them to anyone needing a quality chair and outstanding customer support.
Beverly Hills Chairs' sales and service are top-notch. Their sales representatives were patient, answering all my questions, and the service was prompt and efficient. It's clear that they prioritize customer satisfaction. I couldn't be happier with my Amia chair and the overall experience.
I had a fantastic experience with Beverly Hills Chairs when I purchased my Steelcase Amia chair. The sales team was knowledgeable and helped me choose the right chair for my needs. The service was impeccable, and they ensured a seamless buying process. Kudos to their excellent sales and service!
I'm pleasantly surprised by the quality of the refurbished chair. The seat depth adjustment is a game-changer, and the chair still looks brand new even though it's refurbished. Great value for the price.
The Steelcase Amia chair has been a great addition to my home office. The adjustable seat height and lumbar support are fantastic. It's a bit on the expensive side, but the quality is evident.