Herman Miller Mirra - Shadow Grey Office Chair (Fixed Arm, No Lumbar & Tilts) - Refurbished
Lifetime Warranty *

Money Back Guarantee

Free Shipping
* Herman Miller warranty does not apply to the purchase of a Herman Miller product from BeverlyHillsChairs.com
Herman Miller Mirra - Shadow Grey Office Chair (Fixed Arm, No Lumbar & Tilts) - Refurbished
Following the huge commercial success of the Aeron office chair, Herman Miller released its next chair: the ergonomic Mirra office chair. This reimagined desk chair builds on the industry-changing Aeron office chair, redefining the office chair. For over two decades, Herman Miller has been known as a top-of-the-range luxury office chair brand and the Mirra chair, though less well known than the Herman Miller Aeron chair, has quickly gained a cult following and is constantly winning major awards. In fact, it's Beverly Hills Chairs' top office furniture choice!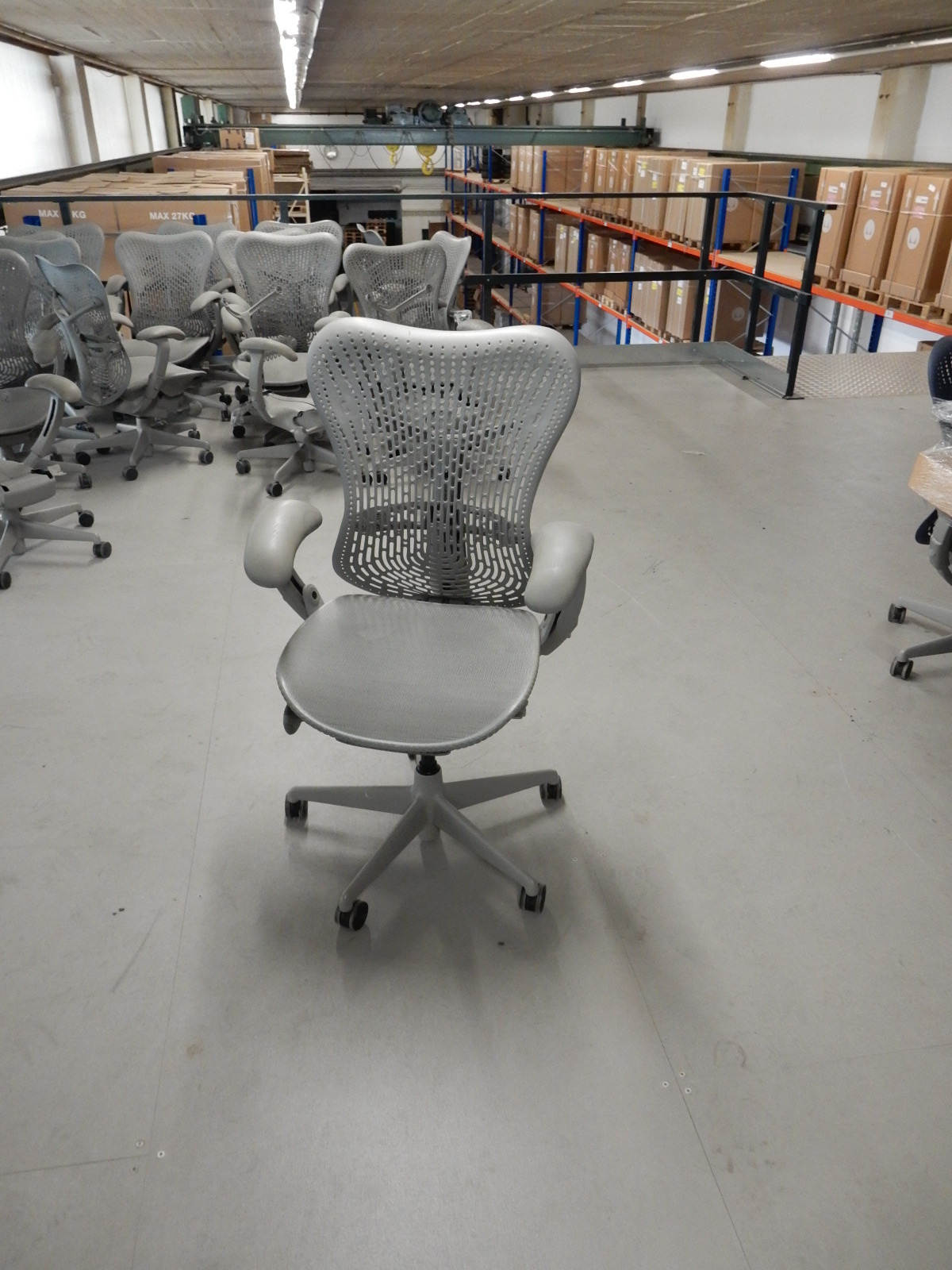 Diving Deeper
The Mirra is a perfect option for those seeking luxury and comfort. With this office chair, the user can customize the look and feel to their liking. The arm and height can be adjusted, the seat pan is comfortable, and the tilt tension can be adjusted forward and backward, so you can tailor your chair to meet your needs exactly.
Our refurbishment program makes it easier for you to determine whether the Mirra is worth the cost with Beverly Hills Chairs. With our refurbishment service, we are able to sell Herman Miller chairs for a fraction of a big box store's price, while providing you with a quality chair. You are also making your office more sustainable by purchasing refurbished Herman Miller products!
You can be sure that you are purchasing a chair that is top quality at a discounted price when you buy a refurbished chair from us. All of our office chairs are inspected by a 20-point team and come with a lifetime warranty. Additionally, we offer a money-back guarantee if you are not satisfied.
The chairs are available in fog blue, black, and black fabric. The availability of colors varies.
What's Better: The Aeron or the Mirra?
As opposed to the Aeron, the Mirra chair is simpler and more affordable. This desk chair is an ideal choice for people who want a luxury office chair but do not have the budget for an Aeron chair from Herman Miller. There are some key differences between the Mirra and Aeron, though many of their features overlap. While the Mirra chair, from Herman Miller, has a classic perforated polymer frameless backrest, the Aeron has a mesh backrest. As an added feature, the Mirra includes a suspension seat with AirWeave technology, which helps dissipate heat, distribute body pressure and weight evenly, and provide a natural and balanced sitting position.
The Herman Miller Mirra office chair is a super nice chair! I was looking for comfort and good quality. It was an added bonus that it looks exactly the way it's depicted on the website.

I'm happy with my purchase.
I am very happy with my Herman Miller Mirra office chair. It was worth it to purchase this well-made piece of furniture. Although I just recently received it, I think that it will prove to be a great investment.
The Herman Miller Mirra with Posture Fit is a well-constructed chair and just what I needed. Comfortable and sturdy chair that will allow me to work for hours without pain.
I found the Herman Miller Mirra chair to be really comfortable. I sit for many hours and I never complain of pain or cramps. I think this chair will last for a long time because the quality is really good. I would definitely recommend this chair.
About 75% of my job requires me to be on my feet. So when it's time for me to sit at my desk, it's good to have a comfortable chair that I can appreciate. My manager was always saying, "you should get a Herman Miller Mirra chair" and I just laughed. Once she told me to try hers, I could see why she suggested it. I got the contact information for Beverly Hills Chairs from her and ended up ordering the same exact chair for myself. It's great!